Submitted by admin on Tue, 14/02/2012 - 8:00am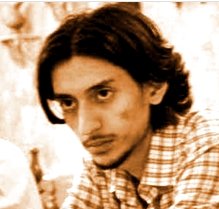 Islamic Renaissance Front mengecam keras pengusiran Hamza Kashgari atas tuduhan twitnya yang berunsur ofensif.
Disebabkan tindakan pengecut dan tak bertanggungjawab kerajaan Malaysia yang merelakan pengusiran tersebut, Kashragi kini berhadapan dengan kemungkinan dijatuhkan hukuman mati di negara asalnya Arab Saudi hanya kerana menuntut untuk menyempurnakan hak kemanusiaannya yang paling asas – kebebasan bersuara dan kebebasan nurani (conscience).
Memandangkan Kanun Syari'ah yang diamalkan di Saudi – sepertimana negara-negara Islam yang lain yang mempraktikkan Syari'ah – tertakluk kepada budi bicara dan tafsiran para ulama', dan Saudi memang dikenali mencatat rekod yang buruk dalam menjamin pendakwaan yang adil serta diperkukuh dengan sejarah penafian hak terhadap peguam dan klien; kami tidak merasakan Hamza Kashgari akan mendapat pembicaraan yang adil.
Apa yang lebih penting, Kashgari telah memadamkan twitnya dan meminta maaf atas kenyataannya. Kami percaya tiada hukuman lanjut yang wajar diambil setelah trauma yang terpaksa dilaluinya sebagai pelarian hanya kerana tindakan yang tidak membahayakan sesiapa apatah pula berhadapan dengan risiko dijatuhkan hukuman mati.
Dalam hal ini, kami ingin mengingatkan umat Islam tentang kepentingan prinsip pengampunan dalam Islam. Kepentingan yang diberikan kepada nilai kemaafan dalam Islam berkait rapat dengan nilai kunci yang lain dalam agama (deen) yakni kebebasan bersuara dan kebebasan nurani. Hal ini dapat dilihat dengan jelas dalam ayat 256 daripada surah Al-Baqarah yang menyatakan bahawa "Tidak harus ada paksaan dalam hal melibatkan keyakinan. Telah nyata perbezaan antara yang benar dari [jalan] yang salah..."
Manusia dicipta dengan dianugerahkan kebebasan, yang dikurniakan oleh Tuhan dengan keupayaan rasional yang diperlukan untuk membolehkan mereka menentukan apa yang benar dan salah berdasarkan pilihan sendiri tanpa diancam atau dikerah oleh kekuatan eksternal. Pemacuan karakter bergantung kepada kesanggupan kita untuk menempuh liku perjalanan itu ke arah kebaikan dalam upaya yang dapat kita nyatakan dan fahami.
Demikian inilah sistem etika yang mendasar di mana pilihan yang bermakna dan amalan yang baik hanya bererti jika didasari dengan kehendak yang bebas. Kerana jika paksaan adalah apa yang diperlukan untuk memastikan sikap yang baik, maka kefahaman tentang cinta, perpaduan, kepercayaan yang ikhlas akan luput dan hilang maknanya.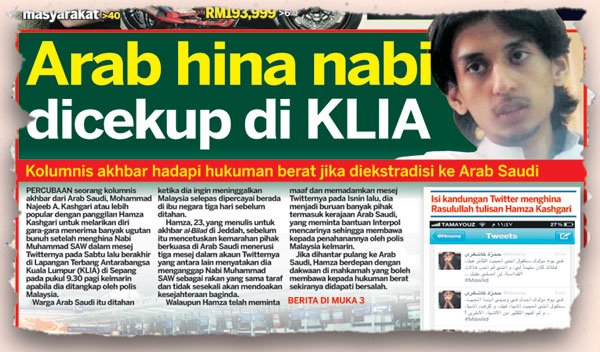 Dalam menuntut layanan manusiawi terhadap Hamza Kashgari, Islamic Renaissance Front sekali lagi menekankan ciri penting daripada nilai kebebasan, keadilan dan demokrasi di Malaysia
Kami juga sangat kecewa dengan peranan kerajaan Malaysia yang mengalah kepada tekanan untuk menghantar pulang Hamza Kashragi. Sebagai anggota Badan Hak Asasi Pertubuhan Bangsa-Bangsa  Bersatu, Malaysia boleh menggunakan peluang ini untuk menjadi contoh kepada rantau ini, jika bukan kepada seantero dunia Islam, tentang apakah sebenarnya kerajaan yang bertanggungjawab dengan perjuangan hak kemanusiaan dapat lakukan.
Sebaliknya, dengan tanpa merujuk pandangan dhamirnya walaupun sejenak, kerajaan Malaysia dengan terburu mengusir seseorang yang dituduh bersalah kerana dianggap jenayah menyatakan pandangannya.
Islamic Renaissance Front mengusulkan supaya kerajaan Malaysia berundur daripada menganggotai Badan Hak Asasi agar dunia tidak lagi terheret untuk percaya bahawa Malaysia memperjuangkan sesuatu yang tidak didukungnya secara hakiki. Realitinya adalah di sebalik pencapaian pembinaan gedung dan bangunan pencakar langit, kita masih mempunyai pentadbiran yang tidak memahami nilai asas daripada perasaan simpati dan keinsanan.
Sesungguhnya ini akan menjimatkan masa setiap orang.
Pengusiran Hamza Kashgari walau telah dihalang dengan perintah Mahkamah Tinggi, jelas memperlihatkan sikap tidak menghormati dan merupakan suatu pelanggaran dan penghinaan ke atas institusi mahkamah. Menteri Dalam Negeri Datuk Seri Hishamuddin Hussein harus dipertanggungjawabkan dengan tindakan salah dan tidak bermoral ini. Mengambil kira bahawa Malaysia tidak pernah mengikat perjanjian ekstradisi dengan Arab Saudi, pengusiran ini jelas tidak beradab dan melanggar tatasusila dan keluhuran undang-undang antarabangsa.
Tiada apa yang dapat dibanggakan untuk menjadi sebahagian daripada Gerakan Muslim Moderat yang dicanangkan. Ia hanyalah manipulasi lain yang dizahirkan untuk menekan demokrasi dan hak asasi.
Hari ini sesungguhnya adalah hari yang cukup menyedihkan bagi rakyat Malaysia dan umat Islam seluruhnya.

Dr Ahmad Farouk Musa
Ahmad Fuad Rahmat
Edry Faizal Eddy Yusuf
Muhammad Nazreen Jaafar
Islamic Renaissance Front
---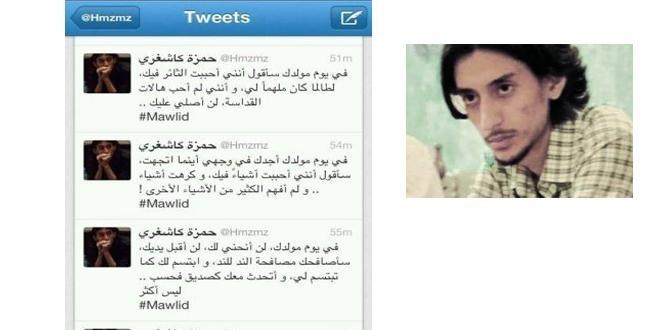 A sad day to be Malaysians and Muslims — Islamic Renaissance Front
UPDATED @ 09:39:06 PM 12-02-2012
February 12, 2012
FEB 12 — The Islamic Renaissance Front strongly condemns the deportation of Hamza Kashgari over his allegedly offensive tweets.
Due to the irresponsible and cowardly actions of the Malaysian government in enabling the deportation, Mr Kashragi now faces the possibility of the death penalty in his home country of Saudi Arabia for the simple act of demanding his right to practice the most basic human rights – freedom of expression and thought.
Since the Syari'ah Law that is practised in Saudi – just like any other Muslim countries that implement Syari'ah – is subject to individual interpretation by the clerics, and Saudi is known to have a very poor record in ensuring fair trials compounded by a history of denial of rights to lawyers and clients; we do not feel that Hamza Kashgari will stand a fair trial.
More importantly, Mr Kashgari has already removed the tweets and apologized for his statements. We believe no further punishment is necessary upon the trauma he had already endured being on the run for such an innocuous act what more while facing the risk of punishment by death.
In this, we wish to remind Muslims of the importance of forgiveness in Islam. The importance accorded to forgiveness in Islam is very much tied to another key value of the deen which is the freedom of speech and conscience. This can be seen clearly in verse 256 of Al-Baqarah which states that "There shall be no coercion in matters of faith. Distinct has now become the right way from [the way of] error…"
Humans were created as subjects of freedom, divinely endowed with the rational faculties needed to be able to determine what is right and wrong on their own accord without the threat or imposition of external forces. The development of character depends on our ability to make that journey towards the good on terms we can relate to and understand most.
This is the core of any ethical system whereby meaningful choices and virtuous acts find their meaning on the basis that they have been willed freely by the person. For if coercion is what is needed most to ensure good conduct, then notions of love, solidarity, genuine trust or sincerity lose their meaning.
In appealing for the humane treatment of Mr Kashgari, the Islamic Renaissance Front once again points to the values of freedom, justice and democracy in Islam.
We are also deeply disappointed with the complicity of the Malaysian government for succumbing to pressures to deport Mr Kashragi. As a member of the United Nations Human Rights Council, Malaysia could have used this opportunity to set an example to the region, if not the entire Muslim world, of what responsible governance based on human rights could be.
Instead, with barely a pause in its conscience, the Malaysian government saw no problems deporting someone accused guilty for the supposed crime of tweeting his opinions.
The Islamic Renaissance Front adjures that the Malaysian government should just step down from the Human Rights Council so that the world would no longer be led to believe that Malaysia somehow stands for something it actually does not. The reality is that beneath the proliferation of malls and skyscrapers, we are still of an administration that does not understand basic human compassion.
This will save everyone's time.
The deportation of Hamza Kashgari despite a High Court order preventing it is clearly a show of disrespect and a contempt of court. The Home Minister Datuk Seri Hishamuddin Hussein must be held resposible for this wicked and egregious act. Considering that Malaysia has no extradition treaty with Saudi Arabia, the deportation is a clear insolent and uncivil act and in breach of international laws.
There is nothing to be proud of being a part of the so-called Global Movement of Moderates. It is just another superficial and manipulative evocations of democracy and rights. Today is indeed a very sad day to be Malaysians and Muslims.
Dr Ahmad Farouk Musa, Ahmad Fuad Rahmat, Edry Faizal Eddy Yusuf and Muhammad Nazreen Jaafar from the Islamic Renaissance Front sent the above article.
* This is the personal opinion of the writers or publication. The Malaysian Insider does not endorse the view unless specified.